Return to index
CREDITS; Additional information.
(Updated Saturday, 06 December 2014)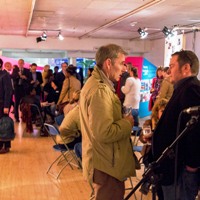 Reelscape Hub Launch

Project Name
"Reelscape Hub Launch", (Event).
Role
Gaffer.
Organisation
Becky Adams (Dir) for Reelscape Community. 2014


Project Description
Launch of the Literacy, Learning and Livelihood Hub, also known as the Movie Hub. CARRIER-media Limited is proud to continue it's support of Reelscape Community and excited to back the Movie Hub with financial and hands on involvement in the project.

Additional Info
Visit www.reelscape.org.uk for more information about the project.

Read my event's news special Events 2014.