Return to index
CREDITS; Additional information.
(Updated Monday, 03 September 2012)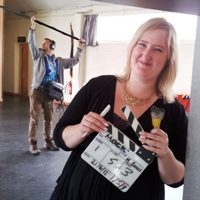 Call Me

Project Name
"Call Me", (Commercial).
Role
Gaffer.
Organisation
Becky Adams (Dir) for Reelscape Films. 2012
DoP
Matthew Riley


Project Description
Commercial.

Additional Info
Delivered.

These Commercials have the backing of CARRIER-media providing Staff, Location Lighting Equipment and Logistics in support of this exciting theatre show. Learn more about "Call Me" via the facebook page, follow the latest news via twitter or buy tickets "Come rejoice with us at ridiculousness of love! Comedy play 2-26 Aug 22.10" from the Sweet Venue website.

JUL2012 - See the Promos on the "Call Me" You Tube Channel. Additional videos have been added shot by cast and others.

AUG2012 – CARRIER-media help to get the cast and modest set to Scotland, and provide promotional items for the big cake launch.
Free umbrellas, sticky bugs and free cake to launch the show.
AUG2012 – "Call Me!" Opened 02AUG2012 at Venue 18, Apex International Hotel, Grass Market. Check out their show Call Me!
AUG2012 – "Call Me!" Closed 26AUG2012 having completed the scheduled run.