Return to index
CREDITS; Additional information.
(Updated Thursday, 24 April 2014)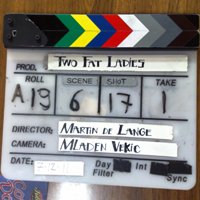 Queen of the Jubilee

Project Name
"Queen of the Jubilee", (Short Film).
Role
Gaffer.
Organisation
Martin De Lange (Dir) for Jipsom Limited. 2011
DoP
Mladen Vekic


Project Description
Short Film.

Additional Info
In Post.

FEB2012 – Shot with the working title of "Two Fat Ladies" the film has now received it's proper title of "Queen of the Jubilee".

JUL2012 - Queen of the Jubilee screening
Monday July 30th between 4 & 5pm. MPC 127 Wardour Street London W1F 0N

APR2014 - "Dear all,
After a long silence 'Queen of the Jubilee' finally entered the festival competition! We've encountered a couple of turndowns at the big festivals last year for various reasons:
Not Dutch enough, to English, so…
Our World premiere wil be in Tokyo! at:
http://www.shortshorts.org/common/ssff-chip.png
http://www.shortshorts.org/ssff/en/news/detail/index.php?id=1397050691
Where we've entered the official international competition.
The ShortShorts festival will be from 29 may till 08 june (If you'd like to go ;)
And to get into the mood, one more time:
Queen of the Jubilee trailer [on]: Vimeo
During the year we try to enter a couple of more festival.
That's all for now..." Martin De Lange