Return to index
CREDITS; Additional information.
(Updated Monday, 13 September 2010)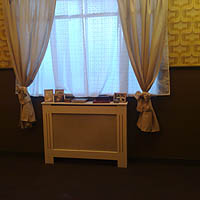 To My Mother and Father

Project Name
"To My Mother and Father", (Short Film).
Role
Gaffer.
Organisation
Can Evrenol (Dir) for Ne'er Do Well Films. 2009
DoP
Stephen Murphy


Project Description
Short Film.

Additional Info
MAY 2010 – "To My Mother and Father" had its premier screening at the BFI'sNational Film Theatre .

JULY 2010 – "To My Mother and Father' has been accepted into the UK's biggest horror film festival Frightfest.

It is held at the Empire Leicester Square and the film is being screend as part of a short film showcase with several other shorts followed by a film quiz hosted by Andy Nyman. We don't unfortunately get free tickets to the event as we are but a short but if you want to come along the showcase and the quiz its Ł11 a ticket they have gone on sale today and the details of the event are as follows

Sunday 29th August - 1:30pm - Sceen 1 (Emipre Leicester Square)

Here is a quick link to a very cool website that has covered the sh[o]rts and put up the press release that has the wonderful image of our young actor Jacob's eye as the header.

and here is a link to the festival website and the cinema website if you wanna find out a bit more

www.frightfest.co.uk/09films/shortfilmshowcas.html www.empirecinemas.co.uk/" (James and Russell)

AUG 2010 - "Hello once again. I have a brief change in the schedule as I had been given some slightly inaccurate information the screening is actual at the following time - Sunday 29th August - 1:00pm - Sceen 1 (Emipre Leicester Square)

And here is a link to buy a ticket if you're interested in doing so.

http://www.empirecinemas.co.uk/index.php?page=synopsis&filmid=2203

Thanks again and perhaps we'll see you there". (Can Russ James) SEP2010 - "Hello all, I am getting in touch as some frankly astouding news had been thrown our way. Our little film has been accepted into a couple of extremely high profile festivals which are
Fantastic Fest (Austin, Texas)
Court Metrange (Rennes, France)
Sitges (Spain)
The Sitges selection is actually in official competition, so we're kinda freaking out about that right now. We'll be attending Spain and Austin so expect pictures and write-ups from us!
Also we now have a website www.tomymotherandfather.com
We put up the various videos and bits and pieces we have so feel free to have a gander and let us know what ya think! I hope all else is well and we'll let you all know how we get on!
Thanks".
Can Evrenol - James Pearcey - Russell Would