Return to index
CREDITS; Additional information.
(Updated Thursday, 08 October 2009)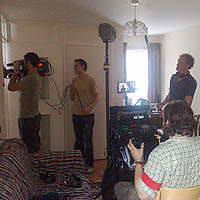 Khurrum's Move
Short Film

Project Name
"Khurrum's Move", (Short Film).
Role
Gaffer.
Organisation
Vicki Psarias (Dir) for Brook Lapping Productions Limited. 2009
DoP
Steven Priovolos


Project Description
One of four 7 min dramas regarding the mental capacity act, planned to be aired as part of a series dedicated to Social Care issues.

Additional Info
In Post.