Return to index
CREDITS; Additional information.
(Updated Saturday, 21 July 2007)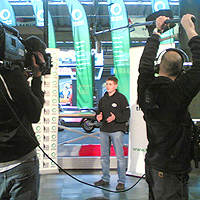 Friends of the Earth
Big Ask Campaign

Project Name
"Big Ask Campaign" - Friends of the Earth", (Campaign).
Role
Gaffer.
Organisation
Daryl Chase (Dir) for Friends of the Earth. 2007
DoP
Daryl Chase


Project Description
Launching the Big Ask a New Campaign "calling for a new climate change law. A law that would tackle the main cause of climate change - emissions of a gas called carbon dioxide. The law would make the Government cut the amounts of carbon dioxide being released by 3% year on year"..

Additional Info
Visit the Friends of the Earth website for more information.