Return to index
CREDITS; Additional information.
(Updated Monday, 13 April 2009)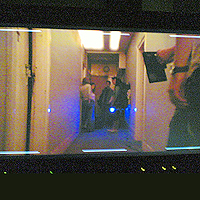 Credo

Project Name
"Credo", (Feature Film).
Role
Gaffer.
Organisation
Toni Harman (Dir) for Alto Films LLP. 2006
DoP
Alex Wakeford


Project Description
"Credo is a modern supernatural horror film that explores the dark side of the human psyche. Set in London, the film begins with a group of theological students who decide to test their faith by proving the existence of Hell..." (Credo website).

Additional Info
Completed.

MAY 2008 - CREDO ACQUIRED FOR US RELEASE. GRINDSTONE ENTERTAINMENT GROUP have acquired all North American rights for CREDO and a release later in 2008 has been planned.

APRIL 2009 - Tickets have just gone on sale for the very first screening of the UK version of CREDO. The film is part of the Official Selection of the 2009 LONDON INDEPENDENT FILM FESTIVAL and will be screened on Monday April 20th at 8:30pm. Tickets can be booked at the Festival web site: www.londonindependent.org

APRIL 2009 – "Credo" will be available to rent in the UK from www.lovefilm.com from May 25th.